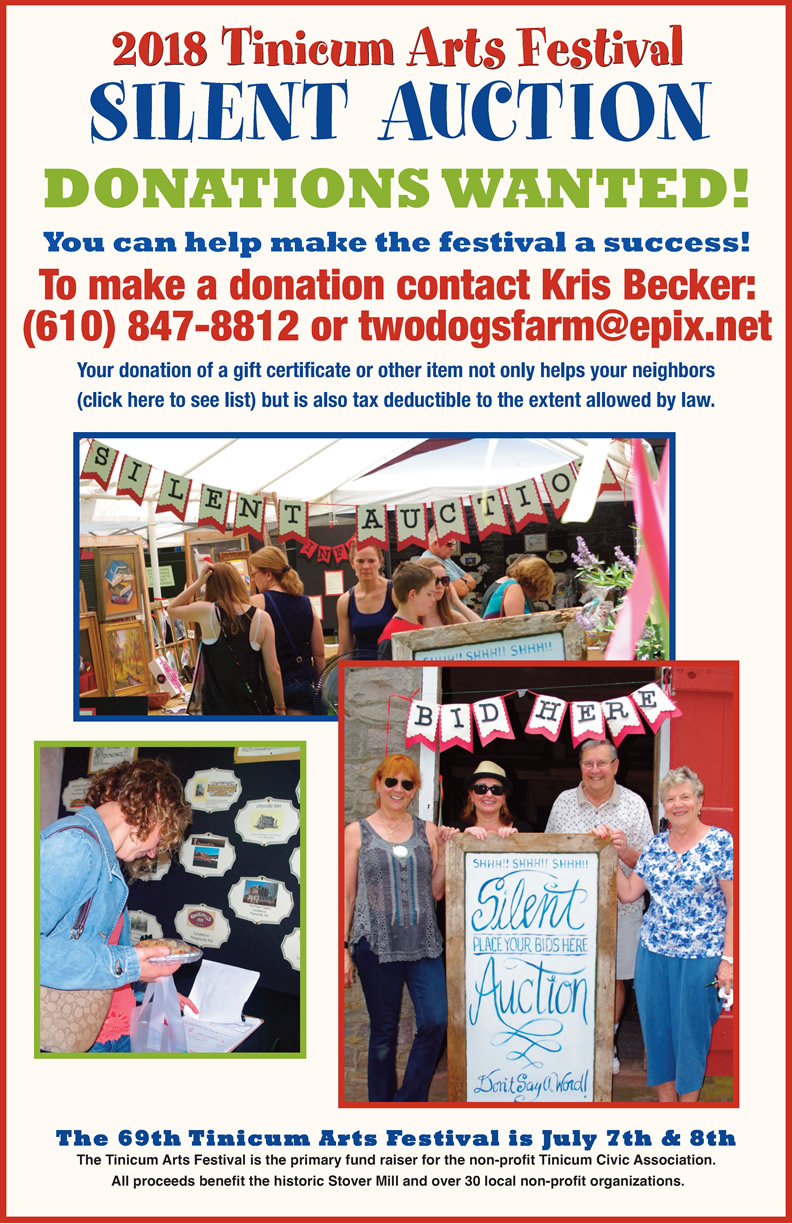 Silent Auction Items
Advance Notice
Artwork
Below please find a list of last year's Silent Auction participants. This year's participants will be listed on June 15th.
2016 Silent Auction Donors
We Couldn't have done it Without these Fine Folks
Generous Merchants & Friends Who Donated to the
Festival & Silent Auction.
When Shopping or Dining
Please Keep these Businesses in Mind.
ARTISTS
Featured plein air artist
Jessie Krause, 215-862-4500, www.jessiekrause.com
Donor artists
Jeannie Chesterton, 215-872-0471, www.jeannechesterton.com
Susan Dryfoos, 703-850-8823, www.susanwdryfoos.com
Kris Keating, 908-996-7702, www.kriskeating.com
Susan Levine, 917-533-1123, SusanLnyc@gmail.com
Jim Lukens, 610-442-4112, www.jimlukensart.com
Paul McGinn, 610-847-6021, mensans@frontier.com
Roy Reinard, 215-450-5923, www.royreinardart.com
Kathy Schroeher, 215-862-5533
Helena van Emmerik-Finn, 215-348-1794, www.hvefinn.com
Rose Marie Strippoli, 215-704-8208; rosemariestrippoli.com
Jonetta Williams, 908-479-6501
FRIENDS
Boyce & Karen Budd
Kathleen Connally  
Elaine & Malcom Crooks   
Maggie Fischer & Bob Starling
Mark Freeborn
Richard & Stana Lennox
Bill Novak
Karl Rahmer            
Nancy Shaffran & Rachael Malinowitzer
Jeff Holvey-Slifer
Largo Wales
Amy & Peter Wardle
Reny & Bill Willoughby
MERCHANTS
When Shopping or Dining, Please Keep These Businesses in Mind.
Bedminster, PA
Pants Factory Pilates, 850-582-1179, allison@ livingproofNYC.com
The Kitchen Potager, 215-767-4051, www.thekitchenpotager.com
Buckingham, PA
Intrigue Fine Apparel, 215-794-0422
Silverman Gallery, 215-794-4300, www.silvermangallery.com
Doylestown, PA
Alan Reed & Co, 215-348-4434, www.alanreedandco.com
BEANS, 215-489-9199, beansbeauty@gmail.com
Beauty & Personal Styling by Judith D'Andrea, 267-670-0848, www.judithandrea.com
Bella's Boutique, 267-454-7323, www.facebook.com/bellasskippack
The Doylestown Bookstore, 215-230-7610, www.doylestownbookshop.com
Holiday House Pet Resort, 215-345-6960, www.holidayhousepetresort.com
Michener Art Museum, 215-450-5923, www.michenermuseum.org
Jules Thin Crust, 215-345-8565 www.julesthincrust.com
The Larder, 215-345-5757, www.larderofdoylestown.com
Nina's Waffles, 267-454-7294, www.ninaswaffles.com
Pennsylvania Soup & Seafood House, 215-230-9490, www.pasoupandseafood.com
Quinoa, 215-348-2826, www.quinoarestaurantbyo.com
Shaving Grace Barbers, 267-620-2005, www.shavinggracebarbers.com
The Station Tap House, 215-348-1663, www.thestationtaphouse.com
Sweet Blossoms, 215-345-5140, www.sweetblossomslingerie.com
Easton, PA
Shiatsu for You, 610-252-3089, shiatsuforyou@rcn.com
Erwinna, PA
EAT THIS, 215-391-5807, www.eatthisyum.com
Golden Pheasant, 610-294-9595, www.goldenpheasant.com
Luxottica Group, 610-294-8131
Sand Castle Winery, 800-722-9463, www.sandcastlewinery.com
Van Sant Airport, 2866-687-8359, www.866mustfly.com
Ferndale, PA
Bucks County Nursery & Florist, 610-847-1286, www.buckscountynurseryandflorist.com
Ferndale Inn, 610-847-2662, www.theferndaleinn.com
Finesville, NJ
Chelsea Forge Antiques, 908-995-2570, www.facebook.com/chelseaforgeantiquesdesign
Villa Milagro Vineyards, 908-995-2072, www.villamilagrovineyards.com
Flemington, NJ
Al Fresco Restaurante & Pizzeria, 908-237-2700; www.alfresconj.com
Basil Bandwagon Natural Market, 908-788-5737, www.basilbandwagon.com
Capuano Ristorante and Pizzeria, 908-782-2276, www.cafecapuano.com
Central Wine Merchants, 908-782-2518, www.njwinestore.com
Chopper's Old School Barber Shop, 908-782-3418
Country Griddle, 908-788-8779
Italian Bakery & Espresso Bar, 908-782-7797, www.italianbakerynj.com
Lenox, 908-284-2400, www.lenox.com/stores/index.cfm?fuseaction=outlets
Little Brothers Liquor Store, 908-788-3775, www.littlebroswine.com
Marinelli's Restaurant & Pizzeria, 908-806-7562; www.pizzaon12.com
Teaberry's Tea Room, 908-788-1010, www.teaberrys.com
Frenchtown, NJ
Alchemy, 908-996-9000, www.alchemyclothing.com
Artful Collector, 267-907-2629, www.artfulcollector.com
B Mila, 732-404-7416, www.bmilashop.com
Bamboo House, 908-996-6689, www.bamboohousenj.com
Blue Fish, 908-996-3720, www.bluefishclothing.com
Book Garden, 908-996-2022, www.bookgarden.biz
Bridge Café, 908-996-6040, www.bridgecafe.net
Café Maria Restaurant & Pizzeria, 908-996-0220, www.cafemaria.net
Cocina del Sol, 908-996-0900, www.cocinadelsolnj.com
Country Chic, 908-996-0122
Cycle Corner, 908-996-7712, www.thecyclecorner.com
Dalla Terra, 908-996-2225, www.dallaterrahome.com
Designs for Tranquility, 908-996-9990, www.designsfortranquility.com
Early Bird Espresso & Mercantile, 908-628-3183, www.earlybirdespresso.com
Euphoria Studio, 908-996-3399, www.euphoriastudio.com
Freedom Art & Music Gallery, 908-872-2272, www.freedomartan music.com
Frenchtown Café, 908-996-0663, www.frenchtown.com
Frenchtown Home & Hardware, 908-996-2283, www.frenchtownhardware.net
Frenchtown Inn, 908-996-3300, www.frenchtowninn.com
Frenchtown Market, 908-996-6869, www.frenchtownmarket.com
Frenchtown Pharmacy, 908-996-4180, www.frenchtownrx.com
Galasso's Pizzeria Inc., 908-996-2511
Grouse Studios, 908-399-0247, www.grousestudios.com
Judy Serbinski Massage Therapist, 908-246-5009
Kathee's General Store, 908-996-6886
Lovin' Oven Restaurant, 908-996-7714, www.LovinOvenFrenchtown.com
Merge Gallery, 908-628-3150
Modern Love, 908-996-3387, www.shopmodernlove.com
The National Hotel, 908-996-3200, www.thenationalhotelnj.com
Olive with a Twist, 908-628-3188, www.olivewithatwist.com
Pulp, 908-996-5253
Porotu Salon, 908-996-0488, www.purotusalon.com
River Gypsy, 908-996-7000
River Net Computers, 908-996-3279 www.rivernetcomputers.com
Ron Kolbi's Decoys & Wildlife Gallery, 908-996-6501, www.decoyswildlife.com
The Spinnery, 908-996-9004, www.spinnery.net
The Thistle, 908-996-7080, www.shopthistle.com
What's Brewin' at Maria's?, 908-996-7258, www.frenchtownnj.org/dining.htm
Kintnersville, PA
The Cascade Lodge, 610-346-7484, www.cascadelodge.com
Fireplace & Chimney Professionals, 610-847-2530, www.fireplaceandchimneyproducts.com
Frog Hollow Farm B&B, 610-847-3764, www.FrogHollowFarmbnb.com
Gristies Antiques, 610-847-1966, ourbarnsale@rcn.com
Horse and Rider Tack Shop, 610-847-2800, www.horseandridertackshop.com
Lahaska, PA
Glass Masters, 215-794-3323, www.peddlersvillage.com      
Lambertville, NJ
El Tule Mexican & Peruvian Restaurant, 609-773-0007, www.eltulerestaurant.com         
Lumberville, PA
1740 House Inn, 215-297-5661, www.1740house.com
Black Bass Hotel, 215-297-9260, www.blackbasshotel.com
Lumberville General Store, 215-297-9262, www.thelumbervillegereralstore.com
Milford, NJ
4ever Fitness, 908-996-1228, www.4everFitness.us
Allen's Antiques, 908-296-0285, www.allensantiques.biz
Bobolink Dairy and Bakehouse, 908-864-7277, www.cowsoutside.com
Bowker's Pharmacy, 908-995-4102, www.bowkerspharmacy.com
Chocolate in the Oven Bakeshop, 908-268-5571, www.chocolateintheoven.com
Milford Market, 908-995-0810
Moninghoff Appliance and Hardware, 908-995-4116, www.moninghoffs.com
Mystique Salon, 908-995-4854, www.visitmilfordnj.com
Pipolo's Pizza & Italian Restaurant, 908-995-4191, www.pipolospizza.com
Purrfect Pet, Inc., 908-995-8995, www.thepurrfectpet.com
Riverside Style Hair Salon, 908-995-4000, www.riversidestyleandspa.com
The Wine Hut, 908-996-4578, www.thewinehut.net
New Hope, PA
Bucks County Playhouse, 215-862-2121, www.bcptheater.org
Dakota Moon, 215-534-0897, www.dakota-moon.com
Inn at Phillips' Mill, 215-862-9919, www.theinnatphillipsmill.com
La Bella Vita on Main, 267-362-5136, www.labellavitaonmain.com
Marsha Brown, 215-862-7044, www.marshabrownrestaurant
Porterhouse Restaurant & Pub, 215-794-9373, www.porterhousepub.com
Taste of the World, 267-740-2671, www.tasteoftheworld.com
Yuli Hair Salon, 215-862-0900, www.yulisalon.com
Ottsville, PA
Brig O'Doon, 610-847-6844, www.brigodooncoffeehouse.com
Kimberton Whole Foods, 610-847-2419, www.kimbertonwholefoods.com
Jerry Fritz's Linden Hill Gardens, 610-847-1300, www.lindenhillgardens.com
Ottsville Inn Restaurant, 610-847-5463, www.dineindie.com/OttsvilleInn
OWowCow Creamery, 610-847-7070, www.owowcow.com
Snip 'N Thyme, 610-847-4247 www.asnipinthymehairsalon.com
Swamps Auto Body, Inc., 610-847-8471, www.swampsauto.com
Vera's Country Café, 610-847-8372, www.yelp.com/biz/veras-country-cafe-ottsville-2
Wehrung's Lumber & Home Center, 610-847-2066, www.wehrungs.com
Well of Life Center, 610-847-1941, www.welloflifecenter.com
Pipersville, PA
Cut to Perfection, 215-766-8807
Dancing Dog Yoga Pilates, 215-534-5192, dancingdogyogapilates.massagetherapy.com
Lenape Chamber Ensemble, 610-294-9361, www.lenapechamberensemble.org
The Lucky Cupcake Company, 267-362-5136, www.TheLuckyCupcakeCompany.com
Oaks Family Restaurant, 215-766-7838
Historic Piper Tavern, 215-766-7100, www.pipertavern.com
Piper Hill Company, 215-766-7767, www.piperhillco.com
Pittstown, NJ
Beneduce Vineyards, 908-996-3823, www.beneducevineyards.com
Sky Café, 908-996-3442, www.facebook.com/SkyCafeRestaurant
Plumsteadville, PA
Capri Pizza & Restaurant 215-766-8440, www.capripizzarestaurant.com
Carroll's Seafood and Produce 215-766-7546, www.carrollsseafood.com
Dominick's Restaurant & Pizzeria 215-766-0210, www.dominickspizzaplumstead.com
El Mariachi Mexican Restaurant 215-766-9130, www.elmariachiplumstead.com
Fisher's Ace Hardware 215-766-8220, www.fisherrental.com
Giant Food Store 215-766-8665, www.giantfood.com
Groveland Grill 908-995-4191, www.grovelandgrill.com
Plumsteadville Inn 215-766-7500, www.plumsteadvilleinn.com
Point Pleasant, PA
Bucks County River Country 215-297-5000, www.rivercountry.net
FP Kolbe 215-297-5666, www.fpkolbe.com
Quakertown, PA
Quakertown Veterinary Clinic 215-536-6245, www.quakertownvetclinic.com
Revere, PA
NelliRae's Kitchen 610-847-2223, www.facebook.com/NelliRaesKitchen
Top of the Mall Deli, 610-847-2223
Reigelsville, PA
Antique Haven 610-749-0230, www.antique-haven.com
Borderline Café 610-749-0833
Muller's Kitchen, 610-252-3760
The Riegelsville Inn Restaurant 610-749-0100, www.riegelsvilleinn.com
Riegelsville Tavern 610-510-3030, www.riegelsvilletavern.com
Village Flowers & Gifts 610-749-2039
Stockton, NJ
Stockton Fine Wine & Spirits 609-397-0587, www.stocktonfinewines.com
Uhlerstown/Upper Black Eddy, PA
Bridgeton House, B&B 610-982-5856, www.bridgetonhouse.com
Homestead Coffee Roasters 610-982-5121, www.homesteadcoffeeroasters.com
Paula Focazio Art & Design 484-312-0707, www.focazio.com
Point Pleasant Coffee Company, 484-305-1277, www.ptpleasantcoffeeco@yahoo.com
Riverview Antiques 908-996-7702, www.myantiqueshops.co.nz/Riverview_Antiques.html
Schneiderwind Farm 610-294-2952